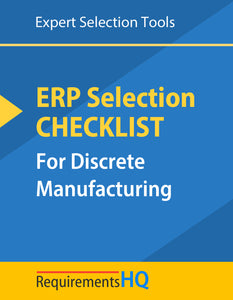 Top ERP Requirements for Manufacturing Operations
The best manufacturers are constantly innovating. If your business is looking to take advantage of the latest capabilities offered by today's best ERP systems, this guide is for you. Discover the most impactful ERP features sought by modern manufacturing operations and get an analyst-vetted selection checklist for your ERP evaluation and comparison.
Financial management modules are highly requested and debatably one of the most helpful tools you can implement in your ERP program. Because finances are the backbone of your business, an effective financial management tool will work with every department in your company. For example, your financial management module could use real-time sales data to calculate revenue as it's earned.

ERP at its core is about the centralization of workflows and information, so financial tools will help you aggregate and manage how money moves throughout your company. You should be able to view the entirety of your business's finances in the module, from your HR department to your marketing department. This typically includes features such as a general ledger, accounts receivable and accounts payable at the most basic level.
Reporting should also be included in the financial management module. Reports are crucial to managing your finances, and can significantly improve the development of actionable insights through advanced data analysis. Additionally, financial statements can help you develop budgets while also keeping your executives aware of your company's financial status.

Want help with your shortlist? Connect with RequirementsHQ to expedite your software search with free recommendations and pricing based on expert software evaluations from SelectHub and inside pricing knowledge.

Take the stress out of your software acquisitions: With detailed evaluations for over 200 ERP systems, our data-driven approach simplifies complex software decisions so you can make smarter choices at any stage of your buying cycle.