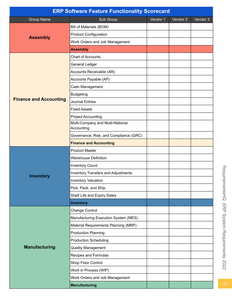 ERP Software Feature & Functionality Scorecard
An ERP implementation can take anywhere from six months to over two years. During that time, you've got a lot of factors to consider. You need to think about your business processes, how they might fit into an ERP and what new operations you might undertake equipped with a new system.
RequirementsHQ requirements guides and templates provide you with the top criteria identified by experts and buyers of the software. Use this practical ERP scorecard template to save time, limit risk, and reduce the chance of missing key decision criteria

View the list of top ERP features to consider and download the free template to compare ERP systems using the calculated fields.